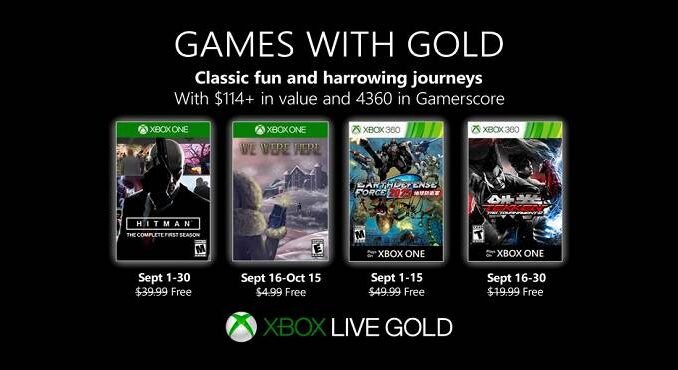 Les jeux gratuits Games With Gold de la Xbox One pour septembre 2019 ont été révélés. Les abonnés Xbox Live Gold ont tous le mois pour le réclamer.
Jeux gratuits Xbox Live Gold Septembre 2019
Hitman: du 1er au 30 septembre (Xbox One)


The Complete First Season est disponible du 1er au 30 septembre et comprend toutes les cartes et missions de, vous l'aurez deviné, de la première saison. Cependant, si vous possédez déjà Hitman 2, il y a toujours un bonus à réclamer Hitman 1. Posséder le premier jeu vous donne accès aux versions remodelées dans Hitman 2.
We Were Here – du 15 septembre au 15 octobre (Xbox One)
Il s'agit du premier d'une série de jeux de réflexion narratifs et coopératifs. Vous incarnez un personnage séparé de son partenaire – contrôlé par un ami – à l'intérieur d'un manoir abandonné. Vous devez travailler ensemble pour résoudre des énigmes et vous échapper.
Earth Defence Force 2025 – 1er au 15 septembre (Xbox 360 / Xbox One)
La Earth Defence Force est un favori des sectes et organise d'intenses batailles à la troisième personne avec des insectes géants.

Tekken Tag Tournament 2 – du 16 au 30 septembre (Xbox 360 / Xbox One)


la suite du titre de lancement bien-aimé de la PS2 et se concentre sur deux batailles en deux.
Tous les jeux Xbox 360 avec Gold sont rétrocompatibles. Vous pourrez ainsi jouer aux deux jeux susmentionnés sur votre Xbox One.
A lire également: