Microsoft a annoncé sa gamme de jeux gratuits Xbox Games With Gold pour novembre 2020. Les abonnés Xbox Live Gold et Game Pass Ultimate pourront réclamer quatre jeux à partir du 1er novembre.
Jeux Xbox gratuits Games With Gold pour novembre 2020 annoncés
Les jeux gratuits pour novembre 2020 seront disponibles au Téléchargement du 1er Novembre au 16 Décembre.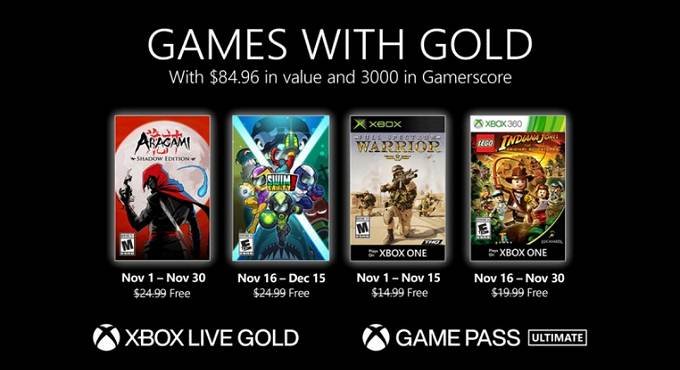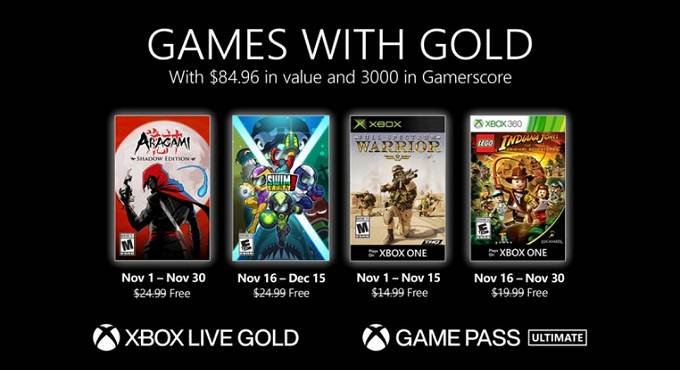 Jeux gratuits Xbox One
Aragami: Shadow Edition: du 1er au 30 novembre
Swimsanity!: Disponible du 16 novembre au 16 décembre
GTA Online offre $1 million de dollars gratuits par mois jusqu'au lancement de la PS5
Jeux gratuits Xbox 360 via la rétrocompatibilité Xbox One
Full Spectrum Warrior: disponible du 1er novembre au 15 novembre
Lego Indiana Jones: disponible du 16 au 30 novembre
Les membres Xbox Live Gold auront un accès exclusif à ces jeux pendant une durée limitée dans le cadre de Games with Gold. Avec Xbox Live Gold, vous obtenez le service multijoueur le plus avancé, des jeux gratuits et des remises exclusives aux membres sur les jeux du Microsoft Store.
PS5: Un nouveau lot de photos de la PlayStation 5 et ses composants
A lire également: