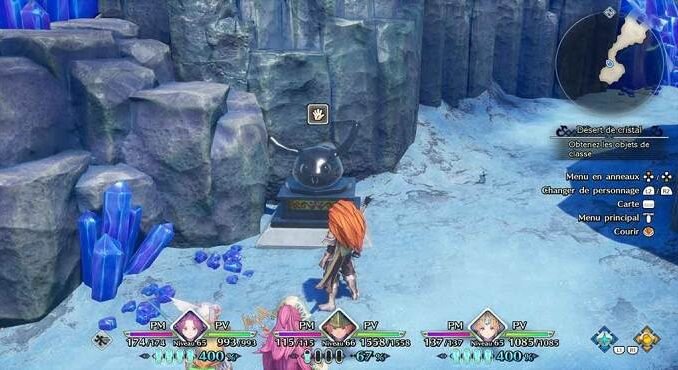 Le Lapyn Noir est un boss redoutable que vous pourrez affronter après avoir fini le jeu la première fois. Sur cette page du guide Trials of Mana, nous vous expliquons où trouver et comment vaincre Lapyn Noir, ce boss annexe dans Trials of Mana, pour gagner la compétence partagée « Puissante Obsidienne » et le « badge de mod« .
Trouver Lapyn Noir, boss annexe dans Trials of Mana
Après avoir terminé le jeu une première fois, retournez dans la zone finale débloquée par votre personnage. Vous pourrez voir une statue représentant un Lapyn. Interagissez avec la statue et vous serez transporté vers une zone de combat pour affronter le boss Lapyn noir qui est au niveau 83.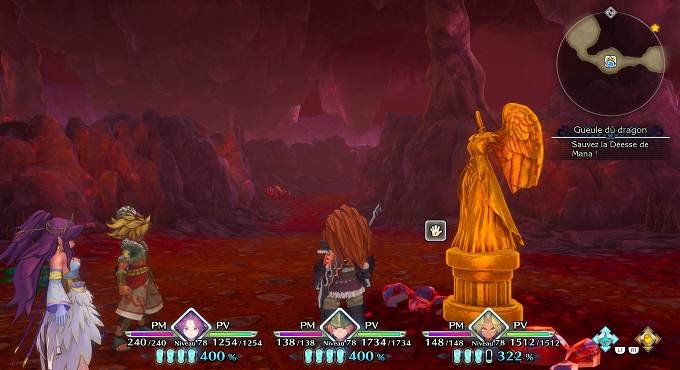 Voici ci-dessous, où trouver ce boss annexe du jeu en fonction des personnages que vous avez sélectionné en début d'aventure:
Duran/Angela
À l'entrée du désert de cristal à l'endroit où vous dépose Flammie.
Kevin/Charlotte
À l'entrée du palais mirage dans la jungle des illusions.
Hawkeye/Riesz
À l'entrée du palais sombre près la grotte de la nuit.
Vaincre le Lapyn Noir dans Trials of Mana
Le combat contre ce Lapyn est assez ardu, vous devrez posséder une équipe solide et de bon niveau. Le Lapyn Noir utilise de nombreuses attaques puissantes, il pourra transformer tous les membres de votre équipe en pierre.
Il pourra utiliser des attaques magiques ou chargées que vous devrez contrecarrer en visant les points faibles . Un équipement contre les altérations d'états peut être une bonne idée pour cet affrontement. Quand il fait apparaitre des doubles de lui-même ou des cristaux sombres dans la zone de combat, occupez-vous-en immédiatement au risque de voir votre équipe se faire décimer quelques secondes plus tard.
Il pourra aussi changer de mode de combat le rendant plus fort en attaque ou défense.
Battez-le pour obtenir une compétence partagée « Puissante Obsidienne » qui a pour effet de ne pas dépenser de PM pour vos attaques spéciales en combat. Il vous permet aussi d'obtenir l'objet important « badge de mod » qui transforme un allié en mog ou lui rend forme humaine s'il a été transformé.
A lire également: