Dans The Last of Us Part 2, vous ne trouverez pas de fusil de sniper prêt à l'emploi dans le jeu. Vous devez mettre à niveau votre fusil standard pour créer un fusil de sniper, c'est-à-dire ajouter une lunette. Le fusil de sniper est une excellente arme pour attaquer les adversaires les plus éloignés. Découvrez sur cette page comment mettre à niveau votre fusil standard pour obtenir un fusil de sniper dans TLoU2 et comment monter une lunette sur d'autres armes.
Comment obtenir un fusil de sniper dans TLoU2?
Ellie aura un fusil régulier de l'étape Jackson : Patrol. Cependant, le jeu vous informera de la possibilité d'utiliser un fusil une fois que vous atteindrez le cadavre d'orignal massacré pour la première fois.

Vous pouvez améliorer votre fusil et le transformer en fusil de sniper en utilisant n'importe quel établi disponible dans la région.
Sélectionnez un fusil dans la liste de vos armes. Vous devez vous intéresser à la mise à niveau de la portée 6x, qui vous permet d'installer une portée de grossissement d'image 6x dans votre fusil. Cette mise à niveau coûte 80 morceaux de ferraille.
Tout en visant à l'aide du bouton L2, vous pouvez appuyer sur le bouton X pour parcourir la lunette. De plus, il vaut la peine d'appuyer sur L3 afin de retenir votre souffle pendant un certain temps et de stabiliser le réticule. Cela vous permettra de tirer des coups très précis.
A lire:
Monter une lunette sur d'autres armes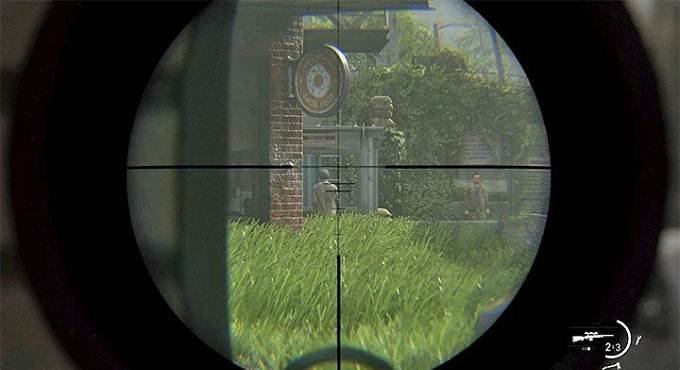 Après avoir pris le contrôle d'Abby plus tard dans le jeu, vous pourrez installer une lunette sur 3 armes différentes. Abby peut monter une lunette sur les armes suivantes:
Carabine semi-automatique
Pistolet de chasse
Arbalète
A lire également: