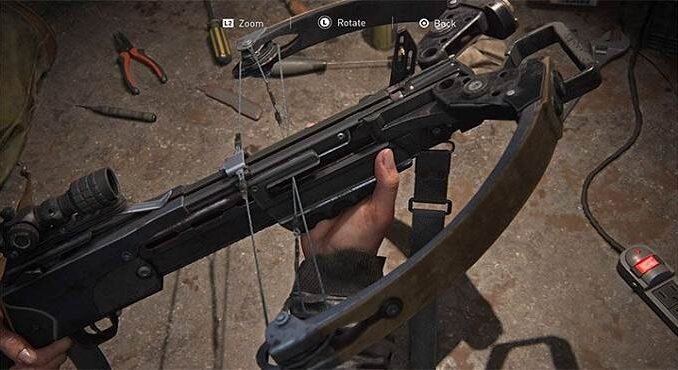 Dans The Last of Us Part 2, l'arbalète vous permet de tirer des tirs silencieux et très précis qui disposeront de l'ennemi instantanément. L'arbalète est une arme uniquement disponible pour Abby, cela signifie que vous ne pouvez pas obtenir l'arbalète en jouant avec Ellie. Ce guide expliquera aux joueurs comment obtenir un arbalète dans TLoU2, comment l'utiliser et comment le mettre à niveau.
Obtenir une arbalète dans The TLoU2
L'arbalète est une arme uniquement disponible pour Abby, dont vous prenez le contrôle plus loin dans la campagne. Abby trouve l'arbalète au cours de Coast. C'est l'un des niveaux trouvés dans Seattle, Jour 1. Pendant Coast, Abby atteint un naufrage et commence à l'explorer.
L'arbalète se trouve à côté des restes humains trouvés sur le navire. Abby ramassera automatiquement l'arme, il est donc impossible de sauter l'événement.

A lire:
Comment utiliser l'arbalète
Les principaux avantages de L'arbalète sont:
Vous n'avez pas besoin de faire de gros ajustements lors de la visée, sauf dans des situations où vous visez des cibles très éloignées.
Vous n'avez pas à tirer l'accord avant de tirer un coup. Vous pouvez libérer le verrou dès que vous avez visé votre cible.
Il y a de meilleures chances de récupérer le verrou. Prenez l'habitude de vérifier les cadavres de tous ceux qui ont été tués avec une arbalète.
L'arbalète est une arme silencieuse. Personne ne peut entendre le coup de feu.
Le plus grand inconvénient de l'arbalète est le long temps de rechargement. Essayez de ne pas manquer et en cas de détection, passez à d'autres armes.
Mettre à niveau l'arbalète
Trois mises à niveau d'arbalète sont disponibles:
La stabilité – 50 débris : augmente la stabilité de l'arme et facilite donc le tir précis.
4x Scope – 60 scrap : vous permet d'installer une lunette 4x, qui est activée en appuyant sur X. La portée 4x permet de tuer plus facilement les ennemis éloignés en visant leur tête.
Reload Speed ​​- 80 scrap : une amélioration importante, qui réduit de moitié le temps de rechargement de l'arbalète.
A lire également: