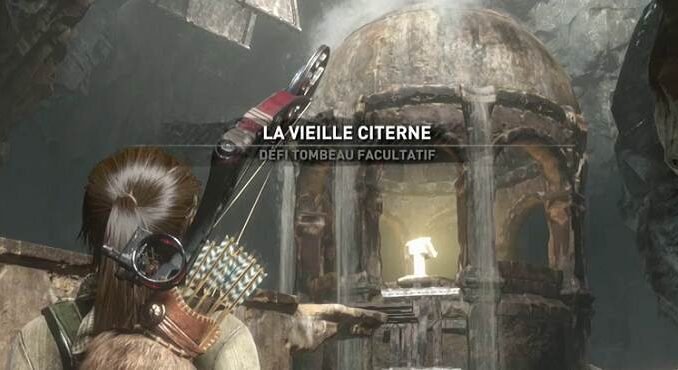 Il y a un total de 9 tombeaux et défis facultatifs dans Rise of the Tomb Raider. Chaque défi de Tombeau récompense Lara Croft avec une nouvelle compétence puissante. Voici un guide et solution complète du défi de tombeau "La vieille citerne", emplacement du tombeau, compétence bonus et guide des puzzles de La vieille citerne de Rise of the Tomb Raider.
Rise of the Tomb Raider est disponible gratuitement sur PlayStation 4 pour les abonnés PS+.
Résolvez les neuf puzzle et vous gagnerez le trophée / succès "Tomb Raider".

Défi Tombeau La vieille citerne de Rise of the Tomb Raider
Emplacement: Complexe soviétique
Compétence Bonus: Instincts naturels
Les ressources à proximité apparaissent automatiquement sur la carte et brillent lorsque vous passez à proximité..
Procédure pas à pas
Le but de ce défi est de faire monter l'eau suffisamment haut pour que Lara puisse monter sur la tour centrale.
Nagez à gauche de la tour, devant la roue hydraulique et entrez dans la pièce intérieure. Jetez une cartouche de gaz sur le bouchon bleu enchaîné et tirez dessus pour élever le niveau d'eau.
Montez sur la plate-forme derrière la tour et prenez une autre cartouche de gaz. Jetez-le sur le radeau flottant. Déplacez le radeau en le suspendant à la planche, en le tirant vers le bas. Le radeau se déplacera vers la roue hydraulique, descendez et tirez sur la cartouche de gaz alors qu'elle revient lentement à sa position d'origine.
Nagez dans le tunnel où se trouvait le deuxième bouchon bleu. Montez au sommet et percez le mur faible qui mène à la salle principale.
Jetez une autre cartouche de gaz sur le même radeau qu'avant. Tirez à nouveau sur la planche pour augmenter le niveau d'eau, puis nagez jusqu'au radeau. Ramassez la cartouche et jetez-la par la porte du niveau supérieur pour faire sauter l'ouverture.
Utilisez la cartouche de gaz pour détruire le troisième bouchon bleu, la dernière ouverture. Ne vous reste maintenant qu'à atteindre la récompense sur la surface de la tour centrale .
A lire également: