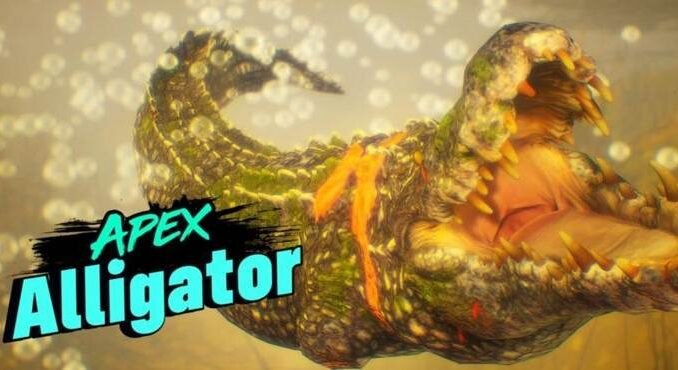 Maneater est une histoire épique de vengeance avec un requin défiguré par un chasseur professionnel nommé « Scaly Pete » pour avoir tué sa mère. Et, Apex Alligator est l'un des monstres marins prédateurs à combattre dans Maneater.
Le requin commence par des « attaques mordantes » de base et peut éventuellement utiliser sa queue pour frapper les ennemis et les étourdir pour mettre en place une attaque finale. Ainsi, il y a de légers éléments de science-fiction entrelacés dans le jeu dans lesquels le requin peut développer des « pointes électriques » et même des armures. Les joueurs doivent « agir comme un requin » et consommer tout ce qui est en vue. Plus le requin absorbe de nutriments plus il devient gros et méchant. Voici comment combattre et tuer Apex Alligator dans Maneater.

Comment tuer Apex Alligator dans Maneater
Vous rencontrerez Apex Alligator, qui est au niveau 20, assez tôt à Fawtick Bayou, lorsque le requin est encore un chiot au début de la partie. Il est donc conseillé de ne pas le combattre jusqu'à ce que Fawtick Bayou soit à peu près nettoyé et qu'il y ait suffisamment d'XP accumulés (niveau 5-10 idéalement). La règle d'or est d'éviter de combattre des ennemis jusqu'à ce que le requin ait à peu près la même taille que l'ennemi. Vous pouvez vaincre une créature marine qui se trouve à quelques niveaux au-dessus, si vous jouez intelligemment. Quand il s'agit de combattre les alligators à Maneater, il existe un moyen spécifique de les contourner.
Les alligators peuvent être considérés comme la « classe lourde » dans la liste des prédateurs marins. Ils sont généralement lents, mais ils peuvent infliger des dégâts massifs avec leurs attaques. Apex Alligator de Fawtick Bayou n'est pas très différent en termes d'attaques. C'est juste plus gros et plus agressif. Ainsi, il s'accompagne d'une « attaque précipitée » dévastatrice qui, si elle est connectée, se poursuivra par un tonneau. Il frappera également les joueurs avec sa propre « attaque de queue » qui les enverra voler à travers l'eau. Il y a un indice visuel d'une fraction de seconde avec son « attaque de queue », en ce sens qu'il élèvera sa queue avant de la faire pivoter. Alors, gardez un œil dessus.
Dès que sa queue est relevée, préparez-vous à esquiver; utiliser le «bouton esquiver» pour l'éviter. Cela est également vrai avec son « attaque précipitée ». La meilleure façon de battre l'Apex Alligator dans Maneater est de s'en tenir à la tactique éprouvée « hit and run ». Mordez-le plusieurs fois et fuyez. Si l'occasion se révèle, claquez-la avec la queue du requin. Lors de la retraite, mangez toujours un poisson-chat ou deux pour garder le compteur d'énergie plein. Heureusement, le bayou a de la place pour esquiver et s'enfuir, si nécessaire. Cette méthode peut être fastidieuse, mais finalement, les joueurs ébranleront la santé du boss et elle sera eliminée.
Battre l'Apex Alligator vous récompensera le avec les ressources « Amphibious Organ Evolution upgrade » et « + 2000 Protein, Fat and Mineral ».
A lire également: