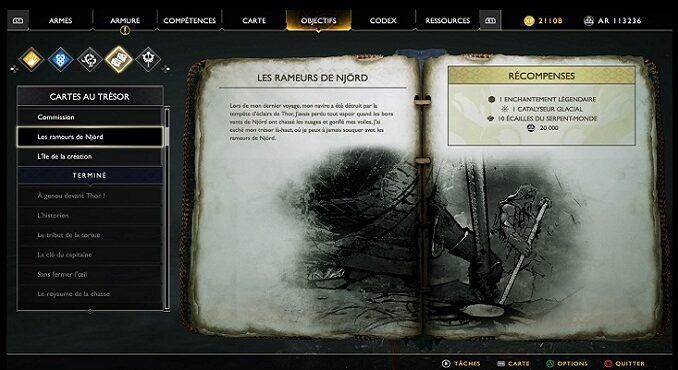 Dans cette partie de notre soluce God of War 4, vous trouverez l'emplacement de la Carte au Trésor Les rameurs de Njörd – Forteresse de Northri, ainsi que le cheminement permettant de trouver facilement le trésor. Guide complet cartes au trésors God Of War 4.

Localisation du Trésor: Sur la plage des Chutes de pierre.
Récompense : Alliage de Leiptr, 10745 Pièces d'argent, Or d'Aegir x30, Cimier gravé de défi.
Guide Carte au Trésor Les rameurs de Njörd en vidéo
Somaire du Guide Cartes aux Trésors God Of War 2018
Carte au Trésor : « Tribu de la tortue »
Carte au Trésor : « Mort et Boursouflé »
Carte au Trésor : « Le Royaume de la Chasse »
Carte au Trésor : « La Clef du Capitaine »
Carte au Trésor : « Sans fermer l'œil »
Carte au Trésor : « Commission »
Carte au Trésor : « L'île de la Création »
Carte au Trésor : « L'Historien »
Carte au Trésor : « A genou devant Thor »
Carte au Trésor : « Les rameurs de Njörd »
Carte au Trésor : « Île de Lumière »
Carte au Trésor : « Aux yeux de toutes »