Avec la sortie de chaque DLC, Borderlands 3 obtient un nouveau lot d'armes légendaires. Voici la liste complète et emplacement de toutes les nouvelles armes légendaires Borderlands 3 du DLC Bounty of Blood: A Fistful of Redemption.
Ashfall Peaks – Armes légendaires Borderlands 3, Bounty of Blood
Robin's Call (Fusil de chasse)
Robin's Call tombe de Lani Dixon et de Garriden Loch depuis Caldera Stronghold à Gehenna. Fonctionne comme les fusils d'assaut Call de Lucian et Call de Rowan (récupérez les munitions si vous marquez un coup critique).
Narp (tireur d'élite)
Récupéré à Haddon Marr, un fusil de précision Hyperion. Lors du rechargement, les tours restants accordent des bonus au prochain magazine. Les bonus incluent une cadence de tir accrue, des dégâts plus élevés, une meilleure précision et une manipulation stable.
Complex Root (tireur d'élite)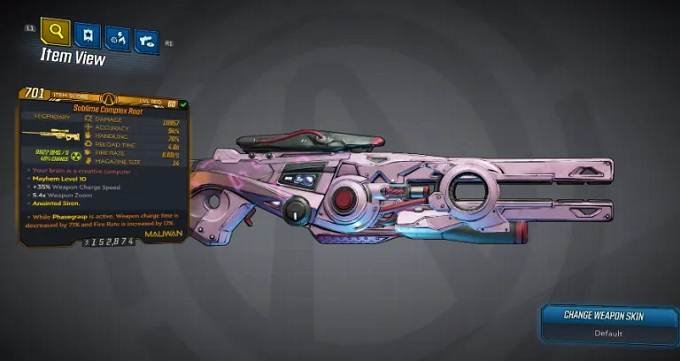 Complex Root  tombe de Lani Dixon – se divise en une multitude de projectiles laser qui ricochent partout dans un motif numérique racine carrée dans des angles vifs.
Contained Blast (fusil d'assaut): Abbadoxis
Les tirs de ce fusil engendreront des mini-bombes qui exploseront après une courte période de temps ou lorsque vous rechargerez.
Bloodsun Canyon – Armes légendaires Borderlands 3, Bounty of Blood
Unkempt Harold (pistolet)
Tombe de Caber Dowd – Tire 3 coups dans une propagation horizontale qui se propage finalement en 7 plombs.
Gargoyle (pistolet): de Dickon Goyle
Cadence de tir élevée comme un SMG. Les projectiles explosent les dommages corrosifs peu de temps après l'impact.
Beacon (pistolet): Jerrick Logan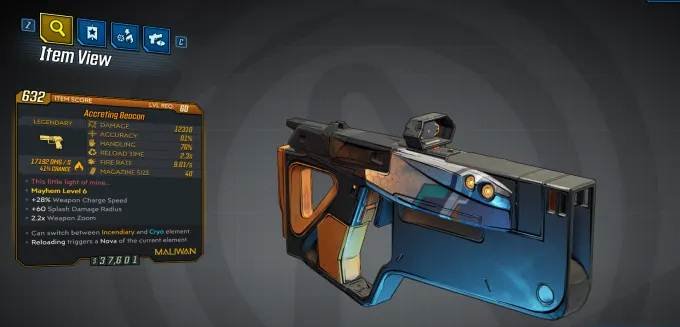 Peut basculer entre 2 éléments. Cadence de tir élevée sous Hellshock. Le rechargement déclenche une nova de l'élément actuel du pistolet.
Flipper (SMG): à partir du Minosaure
Les tirs se divisent en plusieurs motifs de balle en succession rapide.
Forêt Obsidian – Armes légendaires Borderlands 3, Bounty of Blood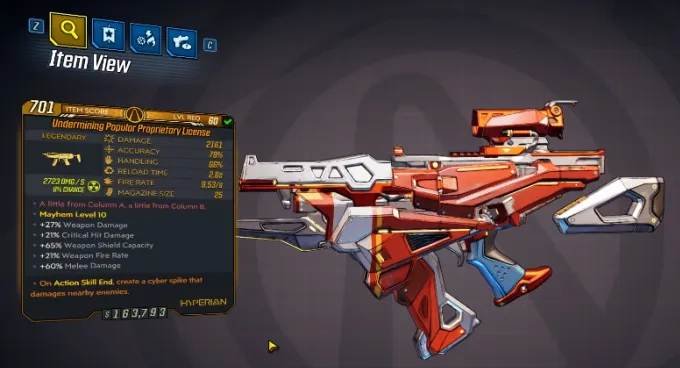 Bêche (fusil de chasse): Waylon Hurd
Proprietary License (SMG): Hydragoian
Fréquence (fusil de chasse): Lectrikor
Spectacle de lumière (pistolet): Lasodactyl
Chandelier (fusil de chasse): Bellik Primis
Les blastplains – Armes légendaires BL3, DLC Bounty of Blood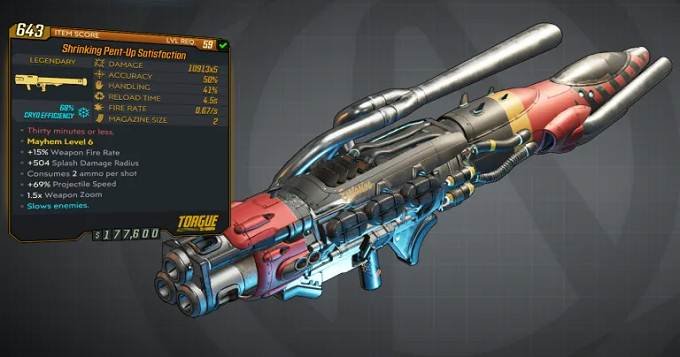 Brightside (fusil de chasse): Bronsons
Le Blanc (pistolet): Ipswitch Dunne
Plumage (RPG): Wrendon Esk
Canne de radiesthésie (fusil d'assaut): Pterodomini
Mère trop (SMG): Slithermaw
Satisfaction (RPG): Vorducken
A lire également: