Dans Assassin's Creed : Valhalla, les joueurs devront rassembler des ingrédients pour Valka afin qu'elle puisse faire une potion qui leur donne des visions d'Asgard, pour voir le monde à travers les yeux de Havi et explorer le royaume magique.
Eivor devra rassembler des matériaux dispersés à travers Asgard afin de l'aider à construire un système de défense contre le Jotun. Lorsque Havi refuse d'échanger la main de Freyja en mariage contre les services de The Builder, il révèle sa véritable identité de Jotun et défie Havi dans une bataille pour sa future épouse. Voici comment vaincre le constructeur dans Assassin's Creed Valhalla – Guide Boss The Builder.
Comment vaincre le constructeur dans Assassin's Creed: Valhalla
Combattre le constructeur peut s'avérer très difficile à la base de la tour qu'il a fabriquée pour ses défenses. Vous devrez endurer deux phases de son attaque afin de le maîtriser et de terminer le reste du scénario d'Asgard.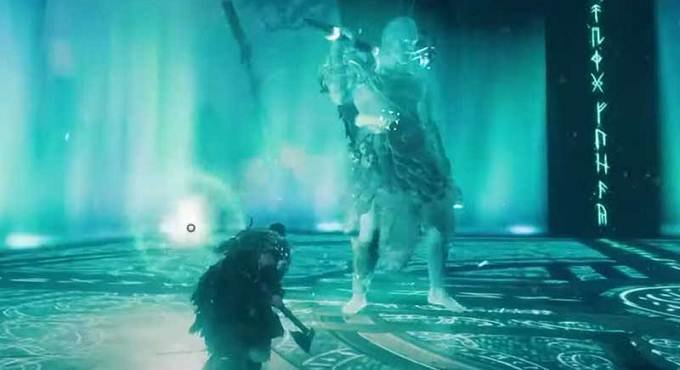 Phase #1
Dans la première phase de la bataille d'Eivor avec The Builder, les joueurs devront esquiver ses attaques. Il est préférable pour un joueur d'utiliser une arme à deux mains plus longue, car The Builder est plus grand que nature et les joueurs doivent se tenir à l'écart de ses pieds. Eivor notera que The Builder a un point faible sur sa tête qui peut être mieux atteint depuis les airs. Les joueurs peuvent également attaquer The Builder puis interagir avec les boules de lumière qu'il laisse près de ses pieds lorsqu'il frappe son marteau sur le sol. Cela rendra les attaques d'Eivor beaucoup plus efficaces contre le Jotun. Ensuite, lorsque ses attaques lancent Eivor dans les airs, elles peuvent lancer une volée de flèches sur sa tête exposée. Il y a des cachettes de flèches cachées autour de l'arène, alors remplissez la réserve d'Eivor quand elles sont à court.
Phase #2 – vaincre le constructeur dans ACV
Lorsque le constructeur aura la moitié de sa santé, il se moquera de Havi de ses compétences en leadership et commencera la deuxième phase de son attaque. Le constructeur essaiera d'englober Eivor dans un champ de force circulaire, alors esquivez et sprintez pour l'éviter. Saisissez toutes les occasions de vous lancer dans les airs et faites en sorte que les tirs d'Eivor comptent. Chaque fois que le constructeur a été suffisamment endommagé pour effectuer une attaque paralysante, profitez de l'occasion et éliminez-le.
Une fois The Builder vaincu, Eivor devra se diriger vers la porte de Jotunheim et se réveiller à Midgard sous l'œil vigilant de Valka. Rassemblez les ingrédients nécessaires à Valka pour préparer une autre potion à retourner à Asgard.
AC Valhalla (ACV) est disponible sur la PS5, Xbox Series X, PS4, Xbox One et PC.
Date Sortie: 10 Nov. 2020.
Plus de guides sur AC Valhalla: