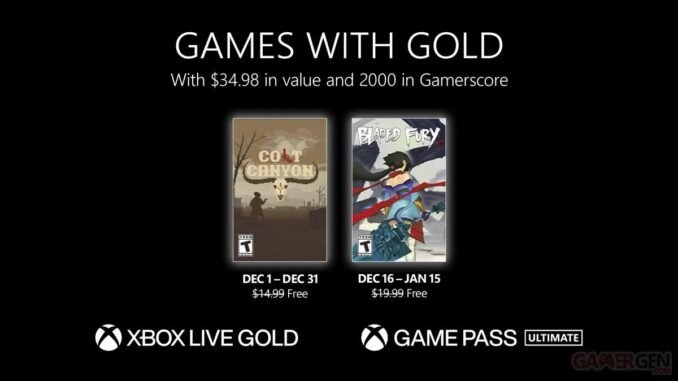 Microsoft offre toujours aux abonnés Xbox Live Gold ou Xbox Game Pass Ultimate de nouveaux jeux gratuits à réclamer tout au long de chaque mois.  Voici à ce que vous attendez pour le mois de décembre 2022.
Jeux gratuits Xbox Games with Gold Décembre 2022
Voici la liste des jeux Xbox Live Games with Gold offerts en décembre 2022, et disponible au téléchargement à partir du 1er décembre, pour les abonnés Xbox Live Gold et Xbox Game Pass Ultimate:
Colt Canyon du 1er au 31 décembre
Bladed Fury du 16 décembre au 15 janvier 2023.
Les abonnés Xbox Live Gold ont encore jusqu'au 15 décembre prochain pour récupérer la sélection des jeux gratuits pour Novembre 2022, et qui inclut: Dead End Job et Praetorians – HD Remaste.
A lire également: