Alors que la Saint-Valentin approche à grands pas, Treyarch annonce une nouvelle mise à jour pour Call of Duty Black Ops Cold War qui mélange le mode familier Kill Confirmed avec une touche amoureuse, Kiss Confirmed.
Le mode remplace les plaques d'identification du chien dans le mode Kill Confirmed par les cœurs de bonbons que les gens donnent à leurs amoureux pour la Saint-Valentin. Le mode spécial Kiss Confirmed sera disponible du 11 au 18 février en multijoueur.
Black Ops Cold War : Le mode Kiss Confirmed
Ce n'est pas la première fois qu'un jeu Call of Duty voit des changements saisonniers apportés à Kill Confirmed. Pendant la saison d'Halloween dans Call of Duty: Modern Warfare, les plaques d'identité se sont transformées en crânes. Un changement approprié pour le décor effrayant, le petit changement visuel a gardé le thème saisonnier vivant, et il semble que Treyarch s'est inspiré de la configuration des vacances d'Infinity Ward.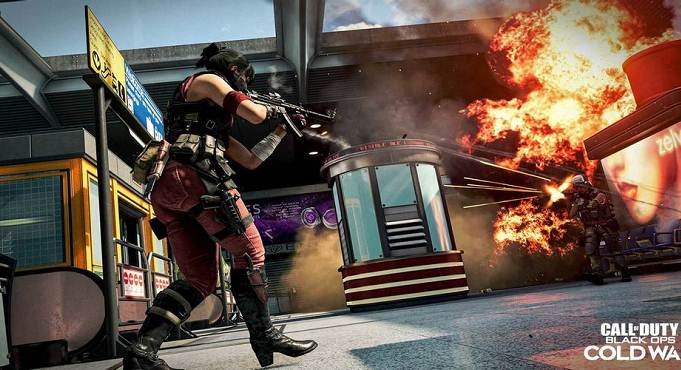 La variante Team Deathmatch verra les joueurs confirmer leurs victoires en ramassant des cœurs de bonbons au lieu de plaques de chien, avec un article de blog officiel montrant les cœurs en action. Comme le veut la tradition avec le mode, les coéquipiers lâcheront des cœurs bleus tandis que les ennemis lâcheront des rouges. Avec le texte de signature «Be Mine» des coeurs de bonbons vu sur les étiquettes reskinned, les gros bonbons ressemblent beaucoup à ce qu'ils font dans la vraie vie, et ils devraient être amusants pour les joueurs de Call of Duty: Black Ops Cold War à traquer.
Treyarch a également annoncé qu'une promotion XP à double arme sera lancée dans Black Ops Cold War et dans le jeu Battle Royale Warzone du 12 au 15 février. De plus, les niveaux Battle Pass sont réduits de 150 CP à 100 CP du 12 au 15 février pour célébrer la Saint-Valentin.
Il y a aussi d'autres lots spéciaux dans la boutique du jeu cette semaine, y compris le Tracer Le pack «Année du boeuf» qui comprend plusieurs plans d'armes légendaires tels que le fusil d'assaut Golden Ox. Le fusil tactique Golden Augx est également inclus dans le pack avec une puissance de feu accrue, et qui s'intégre parfaitement dans l'esthétique romantique de Kiss Confirmed.
Et sur le front de la Saint-Valentin, il y a un nouveau lot « Top Secret Admirer » qui vient avec le plan d'arme Combat Cupid qui comprend un fusil tactique rose avec une incrustation Cupidon. Il y a aussi le fusil de sniper Hidden Admiration.
A lire également: