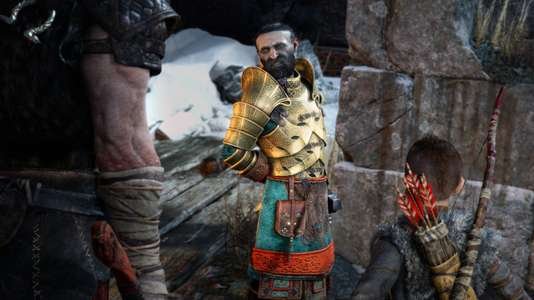 Sortie ce Vendred 20 Avril, le jeu d'action divin God of War 4 se trouvait à l'issue de ces trois épisodes dans l'impasse. De nouveaux décors, des nouvelles compétences et de nouveaux objets, à la façon d'un mini Zelda.

Plus âgé, le dieu spartiate Kratos a trouvé exil en Midgard, en tout anonymat, caché derrière une barbe drue, parmi les fils d'Odin, les trolls et les draugrs. Pour se faire oublier, il est ironiquement devenu ce contre quoi, à l'origine, il combattait : un barbare parmi les barbares.
Kratos et son fils Atreus, Ensemble, ont une mission, grimper au sommet de la plus haute montagne des Neuf Royaumes, pour y disperser les cendres de la mère du gamin. Evidemment, ça ne sera pas si simple que cela. Et le passé de Kratos va le rattraper.
Le jeu commence sur une séquence plus anodine: celle de Kratos qui abat un arbre qu'il se jette ensuite négligemment sur l'épaule. La hache avec laquelle il abat cet arbre, c'est l'arme avec laquelle il se battra pendant l'essentiel de l'aventure, délaissant les chaînes qui étaient jusqu'ici la marque de la série.
La caméra solidement ancrée à 1 ou 2 mètre derrière l'épaule noueuse de Kratos, ne le lâche jamais.
Les combats plus complexes et plus riches que par le passé, plus exigeants également, ils demandent au joueur de jongler entre de multiples compétences et techniques pour venir à bout d'ennemis qui ont, décidément, beaucoup d'énergie à revendre et de points de vie à perdre.
A Lire Egalement:
Guide Complet Cartes au Trésor God of war 4
Un soin du détail qu'on retrouve à tous les niveaux : les personnages discutent beaucoup entre eux. Les dialogues sont aussi efficaces quand il s'agit de donner de l'épaisseur à un personnage, d'expliciter l'univers, ou d'aiguiller le joueur lors d'une énigme ou une quête un peu retorse.
En fin de compte, un des promesses du jeu God of war 4: Kratos, désormais accompagné de son fils Atreus, devait cesser d'être un guerrier décérébré. Ensemble, ils feraient entrer la série à l'âge des jeux sensibles.
God of war 4 est disponible sur PS4 depuis le vendredi avril 2018