Call of Duty Modern Warfare saison 1 Battle Pass est maintenant disponible. Un premier Battle Pass pour les joueurs, de nouvelles maps, des modes supplémentaires, des défis et éléments cosmétiques sont au rendez-vous dans cette nouvelle mise à jour importante de CoD Modern Warfare.
Le nouveau patch, de 18 Go sur PlayStation 4 et Xbox One et de 20 GO sur PC, devra être téléchargé et installé pour continuer à jouer au jeu en ligne.

Call of Duty Modern Warfare saison 1 Battle Pass
Composé de 100 paliers, le Battle Pass de CoD Mobile est disponible au prix de 1000 CoD Points (10€) ou 2400 CoD Points (20 niveaux). Ce Passe de combat Saison 1 offre des récompenses gratuites à chaque niveau.
A voir aussi : Comment faire apparaître le père Noël dans CoD Modern Warfare, nouveau modes Snowfight, Drop Zone, et plus
Récompenses Battle Pass requis
2 nouveaux opérateurs
12 jetons double XP
6 jetons double XP d'arme
4 montres
12 apparences opérateur
Battle Pass NON requis (Gratuites)
2 nouvelles armes
21 plans d'armes (3 gratuits)
7 cartes de visites (3 gratuites)
1300 COD Points (300 gratuits)
7 emblèmes (4 gratuits)
7 porte bonheur (3 gratuits)
6 autocollants (3 gratuits)
6 sprays (3 gratuits)
Nouveaux défis CoD Modern Warfare Saison 1
De nouveaux défis à relever incluent 10 missions disponibles pour la saison 1 de Call Of Duty Modern Warfare.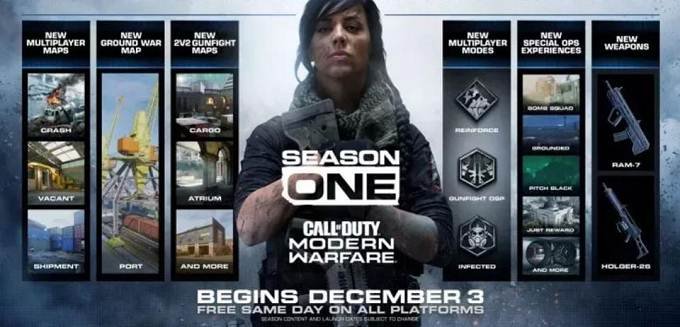 Rangs d'officier réinitialisés
Le classement des rangs d'officier sera réinitialisé pour ceux qui ont atteint un certain point à chaque début de saison. Le rang d'officier maximum qui est le rang 155.
Nouvelles cartes, modes
Un certain nombre de nouvelles cartes feront partie du téléchargement COD, ainsi que de nouveaux modes et extensions d'armes.
La saison 1 de COD Modern Warfare inclut l'arrivée des cartes Crash, Vacant et Shipment pour le mode multijoueur. Ainsi que trois nouvelles cartes Gunfight. et Quatre nouvelles opérations spéciales (Ops).
Nouvelles armes Call Of Duty Modern Warfare Saison 1
2 nouvelles armes disponibles :
Mitrailleuse HOLGER-26 : peut être débloqué au palier 15 du Battle Pass gratuitement.
Fusil d'assaut RAM-7 : peut être débloqué au palier 31.

La saison 1 de Call of Duty Modern Warfare est disponible depuis le mardi 3 décembre 2019.
A lire également:
Défis Call of Duty Mobile semaine 2, Saison 2
Les Meilleures armes dans Call of Duty Modern Warfare