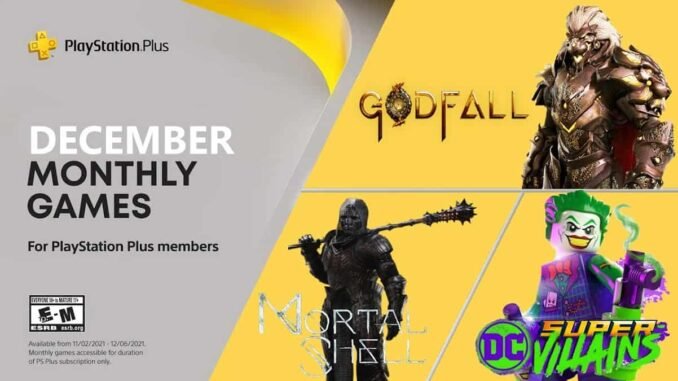 Les prochains jeux gratuits PS Plus pour décembre 2021 dévoilés en ligne par la même source qui a eu raison plusieurs fois dans le passé. La fuite vient de Dealabs via Video Games Chronicle. Dealabs a de nouveau divulgué la prochaine programmation PS Plus, qui devrait être officiellement révélée le 1er décembre, plus tard que la normale en raison de la façon dont les dates de novembre et décembre s'alignent.
Jeux gratuits PS Plus pour décembre 2021 (PS5 / PS4)
Les abonnés PS Plus recevront les trois jeux suivants le mois prochain :
Godfall (PS5/PS4)
Mortal Shell (PS4)
LEGO DC Super-Villains (PS4).
Dans l'ensemble, ce n'est pas une mauvaise répartition: deux RPG d'action, dont un Soulslike, et un jeu LEGO.
Godfall présente un monde divisé en cinq éléments (Terre, Eau, Air, Feu et Esprit) où les joueurs doivent équiper Valorplates comme le dernier de l'Ordre de Chevalier et arrêter le dieu fou Macros.
Mortal Shell voit les joueurs devenir un « enfant trouvé » qui doit affronter des coquillages, suivre le mystérieux « père noir » et traquer les sanctuaires cachés des adeptes.
LEGO DC Super-Villains voit la disparition de la Justice League et un nouvel accent mis sur les méchants cette fois-ci.
Il est encore temps de télécharger les jeux gratuits PS Plus de novembre 2021; qui comprenaient des jeux VR bonus : First Class Trouble, Kingdoms of Amalur : Re-Reckoning, Knockout City, The Persistence, The Walking Dead : Saints and Sinners.
Topic: Fuites, prédictions et programmation pour PlayStation Plus Décembre 2021.
A lire également: