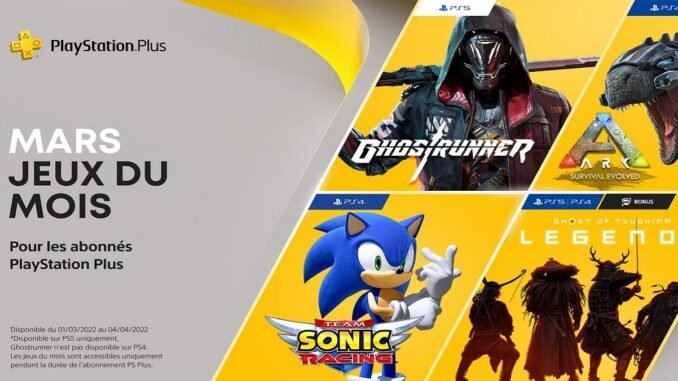 Les prochains jeux gratuits PS Plus pour mars 2022 dévoilés, et Sony va offrir de nouveaux jeux à ses abonnés PlayStation Plus. Ceux-ci seront disponibles au téléchargement dès le mardi 1er mars 2022
Les abonnés PS Plus recevront les jeux suivants en mois de mars
Ark: Survival Evolved | PS4
Vous vous réveillez sur une île mystérieuse et devez vite vous adapter à cet environnement hostile. Glanez des ressources pour fabriquer des objets ou bâtir des abris et utilisez votre nouvel équipement pour tuer, dompter et même élever des dinosaures ou d'autres créatures que ces terres abritent. Vous ne serez pas seul dans cette situation : faites équipe avec des centaines d'autres joueurs, ou prenez-les pour cibles.
Playstation Plus : les jeux offerts pour Mai 2022 (PS4 /PS5)
Team Sonic Racing | PS4
Affrontez des amis dans des sessions multijoueur intenses, faites la course dans des mondes à couper le souffle et travaillez en équipe en partageant des bonus de puissance et d'accélération. Choisissez l'un des personnages emblématiques de la franchise Sonic qui ont été divisés en trois groupes, puis débloquez des options de personnalisation de véhicules pour rehausser votre style de pilotage.

Ghostrunner | PS5
Votre lame en main, réalisez des figures de parkour pour gravir une immense tour urbaine dans ce jeu d'aventure à la première personne intense et ultra-rapide. Utilisez votre mobilité supérieure (et de nombreux checkpoints !) pour mener une joute éternelle et intrépide contre la mort.

Ghost of Tsushima: Legends | PS4 et PS5
Ghost of Tsushima: Legends n'est pas disponible pour les utilisateurs possédant déjà un exemplaire numérique de Ghost of Tsushima: Director's Cut.

Dernière chance de télécharger les jeux PlayStation Plus du mois de février. La sélection inclut EA Sports UFC 4, Planet Coaster: Console Edition (version PS5 seulement ; non disponible pour PS4) et Tiny Tina et la Forteresse du Dragon : Une aventure merveilleuse.
Topic: Fuites, prédictions et programmation pour PlayStation Plus mars 2022.
A lire également: