List Cheats codes GTA V cheats money, Weapons, max health, Drunk Mode, Explosive all US PS4 Cheats codes for gta 5 cellphone cheats and button cheats gtaV.
GTA5 Combinaison Button cheat Codes.
How to Enter the Code
Enter the combination button corresponding to the cheat code during gameplay to activate cheat.
PS4 GTA V Cheat Codes : Change Weather Drunk Mode Explosive Ammo Rounds Explosive Melee Attacks Fast Run Fast Swim Flaming Bullets Invincibility Less Vehicle Traction Lower Wanted Level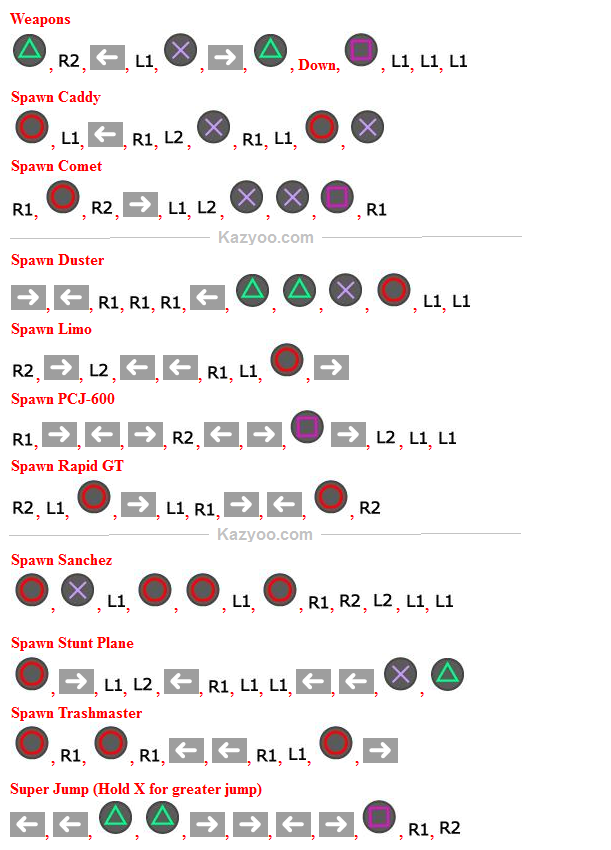 Cheat codes GTA V PS4 Xbox Max Health & Armor Moon Gravity Parachute Raise Wanted Level Recharge Ability Skyfall Slow Motion Slow Motion Aim Spawn BMX Spawn Buzzard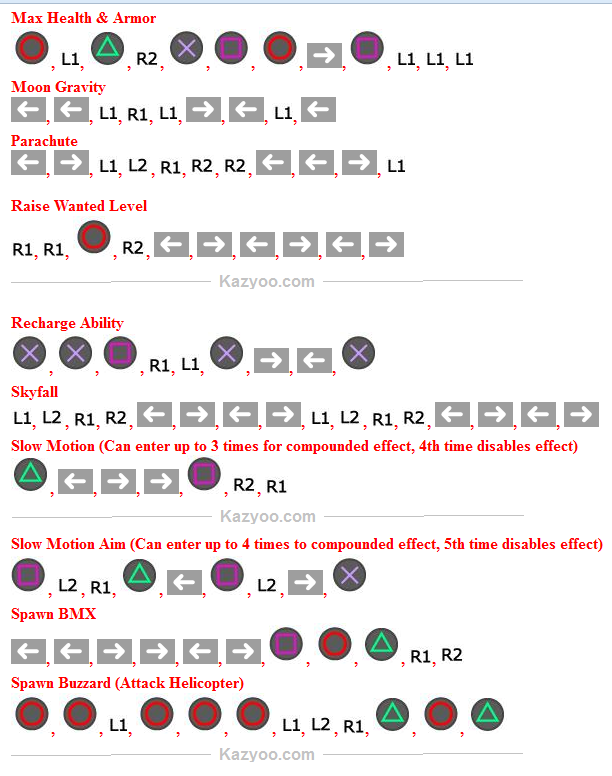 US PS4 Cheats codes for gta 5
: Change Weather – Drunk Mode – Explosive Ammo Rounds – Explosive Melee Attacks – Fast Run – Fast Swim – Flaming Bullets – Invincibility – Less Vehicle Traction – Lower Wanted Level – Max Health & Armor – Moon Gravity – Parachute – Raise Wanted Level – Recharge Ability – Skyfall – Slow Motion – Slow Motion Aim – Spawn BMX – Spawn Buzzard – Spawn Caddy – Spawn Comet – Spawn Duste – Spawn Limo – Spawn PCJ-600 – Spawn Rapid GT – Spawn Sanchez – Spawn Stunt Plane – Spawn Trashmaster – Super Jump – Weapons – xbox gta 5 cheats money – xbox gta 5 cheats helicopter – xbox gta 5 cheats online – xbox gta 5 cheats weapons – xbox gta 5 cheats invincibility – xbox gta 5 cheats cars.
GTA5 Cell Phone Cheats
Open the dial-pad in the cell phone to enter cheats. 1-999-625-348-7246 Change Weather 1-999-547-861 Drunk 1-999-444-439 Explosive Bullets 1-999-462-842-637 Explosive Melee Attack 1-999-228-8463 Fast Run 1-999-462-363-4279 Flaming Bullets 1-999-759-3483 Parachute 1-999-724-654-5537 Invincibility 1-999-5299-3787 Lower Wanted 1-999-887-853 Max Health And Armor 1-999-356-2837 Moon Gravity 1-999-384-48483 Raise Wanted Level 1-999-769-3787 Recharge Special Ability 1-999-759-3255 Skydive 1-999-766-9329 Slippery Cars (Drifting) 1-999-332-3393 Slow Aiming 1-999-756-966 Slow Motion 1-999-226-348 Spawn BMX 1-999-289-9633 Spawn Buzzard 1-999-26638 Spawn Comet 1-999-846-39663 Spawn Limo 1-999-762-538 Spawn PCJ-600 1-999-727-4348 Spawn Rapid GT 1-999-633-7623 Spawn Sanchez 1-999-227-678-676 Spawn Stunt Plane 1-999-872-7433 Spawn Trashmaster
Regardez la vidéo GTA 5 Online: DÉFI des SPIKES SPIRAL 100% IMPOSSIBLE #01